What is the C95 Radio Marathon?
The C95 Radio Marathon for Breast Cancer Research began in October of 2000 when C95's Morning Show host, Lisa Rendall, was diagnosed with breast cancer. For eighteen years, the C95 team has worked tirelessly to raise awareness within our community and funds for the Saskatchewan Cancer Agency Research Department. We have surpassed 4.3 million dollars since the since the Radio Marathon began, making it the largest and most successful fundraising event supporting the Saskatchewan Cancer Agency!
Every year, over 700 Saskatchewan women are diagnosed with breast cancer. It's one of the most common forms of cancer, and very treatable if detected early. Understanding how breast cancer develops and why it spreads is a key focus of the Saskatchewan Cancer Agency's research team at the Saskatoon Cancer Centre.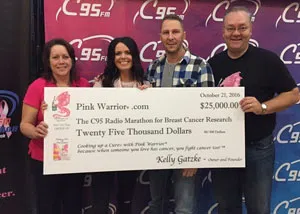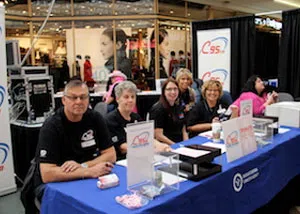 How YOU Can Get Involved
This is an opportunity for you to make a difference in the lives of individuals diagnosed breast cancer in Saskatchewan.
With your workplace:
Fundraising doesn't have to be a lot of work; use the resources you already have!  C95 is pleased to promote your business' fundraising initiative and provide the support and guidance you need to make it a success!
Corporate sponsorship opportunities
Sell a product from your business with a portion of the proceeds supporting the C95 Radio Marathon for Breast Cancer Research
C95 Head Shavings
With Your School:
Teachers and students make great fundraisers.  We have a lot of ways we can work with your school to help them get started!  Schools that raise $1,000 or more will be entered to win a School DJ Package courtesy of Armed With Harmony Music Services!
Host a fundraising event
Coin collection tins
Pledge forms
Sell C95 Radio Marathon merchandise
C95 Head Shavings
On your own:
The success of the C95 Radio Marathon for Breast Cancer Research is largely attributed to the outstanding people of Saskatchewan who give their own heart to the cause, get involved with our fundraising efforts, and really help us make the difference… people just like YOU!
Make a donation
Host a fundraising event
Sell C95 Radio Marathon merchandise
C95 Head Shavings
Volunteer
All support, no matter how big or small, helps us to change lives and gives you that feel-good feeling!
How to get started:
Fill out the form below to register
Start raising funds!
Tax Receipts are issued for donations of $20 or more
Once you've signed up, you'll be contacted by the C95 Promotions Department to talk about your individual or company's fundraising plans and goals.  We are here to help you along the way!
Donate
Donations can be made online, by calling 1-844-735-5590, or mailed to:
Saskatchewan Cancer Agency
c/o C95 Radio Marathon
#200 – 4545 Parliament Ave
Regina, SK S4W 0G3
All donations over twenty dollars receive a tax deductible receipt.
Contact
Heather Bonynge
Director of Promotions
306-934-2222 ext 362
hbonynge@rawlco.com