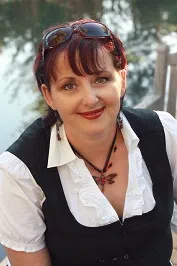 I am Amanda Lepage. I am glad that I have been part of the C95 Radio Marathon for Breast Cancer Research since 2010 and previously acted as the C95 Ambassador!
I am a typical Saskatchewan girl. I was born and raised in Saskatoon and then moved out to Aberdeen, a small town just east of the city.  After finishing my degree at the U of S, I moved out to Vonda with my husband and we spent sixteen years living and raising our two children there.
In 2014, we sold our little house and moved into a beautiful home in Saskatoon. Our music-loving, poetry writing daughter, Renee, is a student at Marion Graham Collegiate and Curtis, our hockey guy, is finishing up his elementary education at St Anne.  I am happily pursuing a new career at the Saskatoon Public Library.
I am a mom and a wife with a wonderful family and friends.  I have a fantastic job and a beautiful home. I feel so fortunate to be living the life I am living today.
Because I am also a cancer survivor.
When I was 33, I was diagnosed with Stage 2B Ductal Carcinoma. Breast Cancer. My whole world turned upside down.
I've had a handful of surgeries, with both minor and major complications.  Chemotherapy. Radiation. I had my left breast removed. It was five years of tests and treatments, medications and monitoring.  I now consider myself "cured".  But I still wonder every single day if the cancer is back, growing inside me.
Through all of this, with the help of my doctors and my family and my friends, I survived.  I am one of the lucky ones.
Please join me at the C95 Radio Marathon for Breast Cancer Research. By raising money to support breast cancer research in Saskatchewan, we can, and will, get closer to finding a cure.  Or medications that will help Stage 4 survivors live longer and better lives.
Seven years ago, it was me. Tomorrow it could be you or your mom or your wife.  Or even your daughter.  Join our team. Help us conquer breast cancer by funding research.  Let's do this together!