C95's RADIO MARATHON RAISES $358,310 FOR BREAST CANCER RESEARCH
The 2018 C95 Radio Marathon for Breast Cancer Research raised $358,310 with over $4.6 million dollars raised since the C95 Radio Marathon began 19 years ago.  This year's Marathon showcased stories from breast cancer survivors who turned heartbreak into inspiration.
Patti Morrison shared her story of being diagnosed with stage four metastatic breast cancer in August 2017.
"My prognosis with no treatment was six to nine months. With chemotherapy and hormone therapy, three to five years.  I am on the three to five year plan with gratitude, knowing that I have had one year thanks to the breast cancer research and donations from wonderful people.  It's the research that's keeping me alive. "
Through the support of our listeners, the survivors, community fundraisers, and corporate partners, the C95 Radio Marathon has become the largest and most successful fundraiser in support of the Saskatchewan Cancer Agency. Donations come from all walks of life and no amount is too small!
All partners involved with the Marathon share the same goal – to find a cure for a merciless disease that knows no boundaries.  Proceeds from today's event will be used by the Saskatchewan Cancer Agency to provide resources that help Saskatchewan researchers work toward finding new treatments for those affected by breast cancer in Saskatchewan each year.
Here are just a few of the outstanding donations made today:
Gordon & Jill Rawlinson
Kindersley Composite High school
Orano Canada
Saskatoon Firefighters Local 80 IAFF
Saskatoon Medical Imaging
Wild Pink Yonder Charitable Society
We also received an incredible $100,000 donation from an anonymous donor! Thank you to everyone in Saskatchewan who got involved and donated generously.
What is the C95 Radio Marathon?
The C95 Radio Marathon for Breast Cancer Research began in October of 2000 when C95's Morning Show host, Lisa Rendall, was diagnosed with breast cancer. For eighteen years, the C95 team has worked tirelessly to raise awareness within our community and funds for the Saskatchewan Cancer Agency Research Department. We have surpassed 4.3 million dollars since the since the Radio Marathon began, making it the largest and most successful fundraising event supporting the Saskatchewan Cancer Agency!
Every year, over 700 Saskatchewan women are diagnosed with breast cancer. It's one of the most common forms of cancer, and very treatable if detected early. Understanding how breast cancer develops and why it spreads is a key focus of the Saskatchewan Cancer Agency's research team at the Saskatoon Cancer Centre.
This year's C95 Radio Marathon for Breast Cancer Research is Friday, October 26th at The Centre Mall.  We hope you can join us!  Keep reading to see how you can get involved!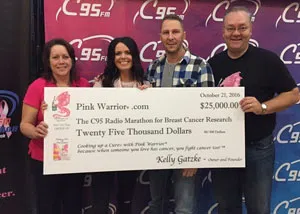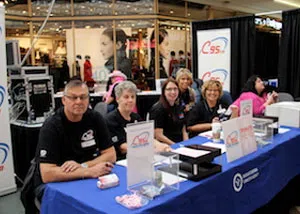 Breast Cancer Statistics
In 2018, there will be an estimated 750 new cases of breast cancer in Saskatchewan.
In 2018, Saskatchewan will lose approximately one hundred and sixty mothers… sisters… aunts… friends… coworkers to breast cancer.
One in eight Canadian women is expected to develop breast cancer during her lifetime.
Approximately 3 Canadian women are diagnosed with breast cancer every hour.
Together, we can change the future of breast cancer in our province.
Thank-you to our Generous Sponsors

Donate
Donations can be made online, by calling 1-844-735-5590, or mailed to:
Saskatchewan Cancer Agency
c/o C95 Radio Marathon
#200 – 4545 Parliament Ave
Regina, SK S4W 0G3
All donations over twenty dollars receive a tax deductible receipt.
Contact
Heather Bonynge
Director of Promotions
306-934-2222 ext 362
hbonynge@rawlco.com