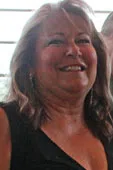 My name is Jo Osczevski and I am a mother of three sons. I'm honored to be a part of the C95 Radio Marathon for Breast Cancer Research. I have always listened to the Marathon and the survivor stories on the radio over the years; I just never expected that one day I would be one.
The summer of 2016 was supposed to be "THE summer." I was finally feeling good following a life threatening brain surgery last summer (not related to cancer). It was July, and I was on my way to one of my son's ball games when I received life altering news from my physician "Jo, you have breast cancer." My life changed that day forever. I had watched my own Mother battle this dreaded disease twice and I wondered how I could ever survive this journey.
My husband of 33 years is my rock. He was so devastated his words were "I just can't sit in another doctor's office and listen to what they are going to do to my wife." He took time off work to care for me for over a month. My 6'3" son learned how to wash his own mother's hair. If one person in the family has cancer, the whole family does as well.
I underwent a bilateral mastectomy in August 2016, and my original diagnoses of one grade 1 invasive tubular cancerous tumor was changed to 4 grade 1, stage 1 cancerous tumors containing multifocal invasive tubular carcinoma as well as micro invasive lobular carcinoma. In other words, they removed four tumors containing two different cancers. I still have five years of hormonal therapy ahead of me as the cancers were E/P receptive positive, as well as several procedures and another surgery.
We just have to find a cure! Let's help save our granddaughters', sisters', aunts' and friends' lives together. We can do it!