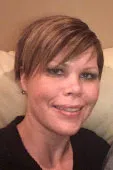 My name is Keri Beebe and I am honoured to have been a part of the C95 Radio Marathon for Breast Cancer Research since 2015.
January 5, 2015 was a typical day for me.  My husband and I went to work, and my two daughters went back to school after the Christmas break.  Life was as it should be.  That night, I felt a lump in my right breast.  I knew my mom and my maternal grandmother had breast cancer, but I wasn't really worried.  I thought it was nothing.  I thought I was invincible. 
I made an appointment to see my family doctor and she sent me to have a mammogram and ultrasound; thankfully, I got an appointment that week.  After the mammogram and ultrasound were over, I was taken in to see the doctor.  Life changed the minute she looked up at me.  She told me that the results didn't look good and it was more than likely cancer.  I could not believe it.
My first of eight chemo treatments began in March.   There are no words to describe how awful I felt.  It was hell.  Shortly after losing my hair, the awful symptoms the doctors tell you about started to show.  It was like having the worst flu of your life for six months.
After my chemo treatments were over, I had double mastectomy in October.  The surgery went great and my margins came back clear!  This meant I did not need radiation – I felt so lucky!  Since I am HER2+, I still had to go to the Cancer Clinic every three weeks to receive Herceptin until May.  Thankfully, there were very little side effects and life slowly got back to normal.  I am now on Tamoxifen and will be for at least five more years.  I will worry for the rest of my life that the cancer will come back.
This is not what I expected the last year of my 30s to be.  I could not have done it without the enormous support of my husband, kids, family and friends.  Their love got me though some very dark days.  Cancer affects more than the patient, it hurts everyone that loves them.  Sadly, I'm not the only one in my family to be diagnosed with cancer.  Research is the only way to find a cure.  Please donate so you or anyone you love will never have to hear the devastating words – "You have cancer."