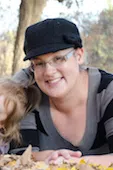 I am so excited to be able to participate in another C95 Radio Marathon. This will be my fourth year sharing my story.
Last year, I finished my 24th round of chemotherapy. I was off treatment, but as someone with a Stage 4/terminal diagnosis, I never know how long this will last. To make the most of these precious moments, I planned an amazing trip to Disney World with my family to celebrate! We had the most incredible time and enjoyed so many special moments together as a family. I know this trip is something I will cherish for the remainder of my days, and I am so glad I got to share in these memories with my little girl.
I have been in remission since last year, but I do not know how long this will last. I have no other options available to me, and eventually I will no longer be able to tolerate chemotherapy. I need research for a cure, for other options, so my life can continue on.
I continue to be part of the Radio Marathon because I do not want anyone else to have to deal with this. My daughter was two when I was first diagnosed and I do not want her to have to deal with the fear of cancer her entire life. If we can come together and raise funds for research, we become that much closer to a cure! Join our team and help conquer this disease!