Teacher of the Month
Do you know a teacher that goes above and beyond for their students?  Tell us about them!
Nominate a teacher for C95 and Wendy's Teacher of the Month at C95.com and tell us what makes them so exceptional!  We'll surprise the winning teacher and their class with a catered lunch compliments of Wendy's and have it delivered by the C95 Team!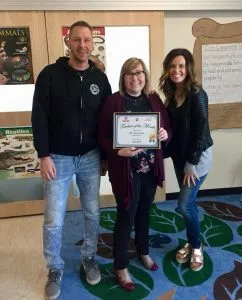 April Teacher of the Month Nomination:
Ms. Olson is such an amazing teacher! She continues to go above and beyond, one example of this is that in the winter one of her students couldn't find his winter boots at the end of the day and needed to get to his bus and Ms. Olson offered him her own boots so that he wouldn't have to go home is his indoor runners!
She is also a very hands-on teacher who teaches by examples and experiments, which has been beneficial to all the students in the class. She has a huge heart and loves her job and the children she teaches and deserves to be recognized for it!!