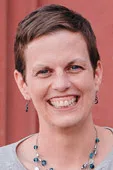 My name is Trisha Mourot and I am thrilled to once again be part of the C95 Radio Marathon for Breast Cancer Research. Last year I interviewed on air two weeks after completing my last chemo treatment.
I will never forget the moment that I was told that I was diagnosed with Breast Cancer. We were in the midst of our busy morning routine, and the phone rang. I couldn't believe it, I was a healthy 37 year old woman without a family history of breast cancer. How did this happen to me?
My thoughts immediately went to my young daughters and my husband. Would I be there to watch their milestones in life? Would I grow old with my husband?
My medical team immediately jumped into action with a plan for my cancer treatment. My diagnosis was Stage 2 Triple Positive Invasive Ductal Carcinoma (which later would be re-staged at Stage 1B.) I would start with 8 rounds of chemo, followed by a bilateral mastectomy, 17 infusions of a chemo lite drug called Herceptin, and hormone therapy drugs for at least 5 years. I was lucky I responded well to all of my treatments. For now I am considered NED, which means no evidence of disease. Cancer is so uncertain though, that I always fear it may rear its ugly head again.
The C95 Radio Marathon for Breast Cancer Research is a cause I believe in! All of the funds stay in Saskatchewan to help with local research projects. There have been great strides made in Breast Cancer research, but there is more work to be done.